Global Artist, Artivist, and Cultural Visionary – A Tapestry of Color, Culture, and Change
Mark Phi's artistic odyssey is a narrative of transformation, cultural influence, and dedicated social activism. From his serendipitous beginnings at a casual Paint and Sip event in 2013, Mark has emerged as an internationally recognized artist and artivist, with a journey as vibrant and impactful as his multifaceted art.
The Artistic Awakening:
It all started in Boca Raton, Florida, when Mark attended a Paint and Sip class to celebrate a childhood friend's birthday. Having never painted before in his life, Mark discovered a natural talent for capturing life on canvas. For his first piece, he chose to depict a lion, representing his Leo zodiac sign.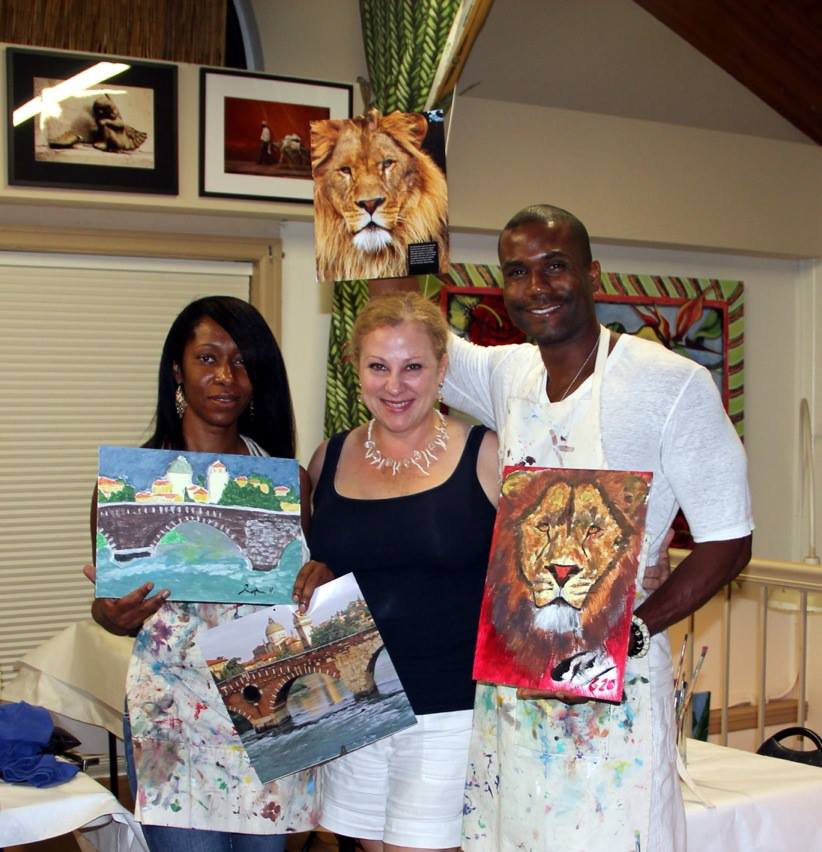 Little did he know, this initial artistic spark would ignite a creative passion spanning continents, cultures, and artistic styles. What began as a casual night out became the genesis of a remarkable artistic career driven by vision and social impact.
Style and Evolution:
Mark's art reflects the complexity and beauty of the human experience through a rich tapestry of vibrant colors, bold textures, and diverse cultural themes. His style continuously evolves across a range of mediums as he pushes his own boundaries.
The early Bob Marley paintings that catapulted his journey were defined by a contemporary, layered acrylic on canvas technique. As his technical skills developed, Mark began exploring other styles like charcoal sketches and striking black background lion pieces with vivid iridescent accents.
While abstraction and geometry define collections like Pastel Dreams and African Dreams, thematically, Mark's art often returns to representing people and cultures that inspire him. From Jamaican national heroes to Bob Marley, he imbues his subjects with hypnotic visual poetry. Even in abstraction, his art retains organic authenticity by avoiding rigid perfection. Mark views his works as never fully complete, just pausing at emotionally satisfying moments that capture the impermanent, flowing nature of life.
From Anonymity to the Public Eye:
For several years, Mark maintained complete anonymity as an artist. Even most collaborating organizations did not know his identity. He represented himself only as the artist's representative.
This changed in 2020 with the rise of the Black Lives Matter movement following George Floyd's tragic death. Compelled to respond, Mark created the "46 Pleas" painting depicting Floyd's final words. For the first time, he publicly revealed himself as the artist behind these powerful works.
The "46 Pleas" painting marked his transition into an artivist and public figure. To further express his views, he created an accompanying 4-part documentary series titled "Conflicted Coward" – his first time openly merging art and activism.
Global Reach and Impact:
Mark's art transcends geographical boundaries. He has undertaken significant collaborations on 4 continents including Asia, Africa, Europe and North America.
In China, he partnered with organizations like Chunhui to fundraise for orphaned youth through custom artworks, prints and merchandise. In South Africa, he worked with Ubuntu Pathways to spotlight education and women's empowerment. Across Europe, pieces like his $28,000 painting for Ubuntu's London gala helped build global awareness and resources for impactful causes.
Other landmark partnerships include the Bob Marley Foundation and UNICEF in Jamaica, where proceeds from his prints fund educational initiatives. From grassroots organizations to major NGOs, Mark leverages his artistic talents worldwide as a force for good.
Cultural Ambassador and Philanthropist:
Education and cultural pride are cornerstones of Mark's artivism. Through the Jamaica Heroes Modernized project endorsed by the Jamaican Ministry of Culture, he is reimagining Jamaica's national heroes through fine art, music, film and a digital platform.
His permanent exhibit in the "Mark Phi Room" at the Bob Marley Museum and participation in the global Bob Marley One Love Experience tour further highlight his cultural ambassadorship and philanthropic spirit. By donating 10 iconic paintings to the museum and boosting their educational mission, Mark cements his place in promoting Caribbean culture.
Educational Impact and Recognition:
Mark's art contains powerful educational and social discourse. The incorporation of his George Floyd inspired works into Ohio State University's College of Education and Human Ecology curriculum underscores this. His art and activism are now part of their program studying the Black Lives Matter movement.
This prestigious academic recognition is a testament to the cultural influence and real-world impact of Mark's artivism. It demonstrates how art can spearhead poignant classroom discussions about inequality, justice and human rights.
Evolving Presence and Future Aspirations:
As Mark evolves from anonymous artist to globally engaged artivist, his aspirations also progress. While remaining committed to cultural philanthropy, he is focused on reaching wider audiences by participating in international exhibits and art fairs.
His desire now is to actively publish more works, catalyze new collectors, and amplify placements in internationally renowned museums and cultural institutions. By balancing commercial opportunities with his philanthropic spirit, Mark aims to inspire love, unity, critical thought, and positive change worldwide.
Art and Philosophy:
The name Mark Phi captures the core principles permeating his art and activism – creative expression as a universal birthright and moral obligation. Phi symbolizes the divine geometrical ratio and Mark references the ability of all humans to leave their creative imprint.
His work invites viewers to join him on a journey of artistic creation, discovery and constant evolution. Mark provokes emotion, critical reflection on society, and an appreciation for the ephemeral balance of life. While profoundly personal, his art also carries global themes of unity, equality and empowerment.
Standing on the global stage while retaining grassroots humility, Mark Phi represents the limitless horizons attainable when creativity is unleashed for the greater good. As his own artistic voyage continues, he charts the course for future generations to discover their creative purpose and transform lives through art.
"Remember? You are the limitless possibilities and potential of the universe experiencing itself through you. Be Great. We all have the ability to create and make an impact leaving our own Mark"
– Mark Phi